The mandate of national organizations is generally focused within national borders, while international organizations tend to have overly broad mandates that keep them from developing localized expertise and deep contextual awareness. In isolation, both can be hindered from achieving their full impact. Enhanced regional cooperation across geographies, disciplines, institutions and economic sectors will speed up the pace of innovation and maximize the impact of existing efforts.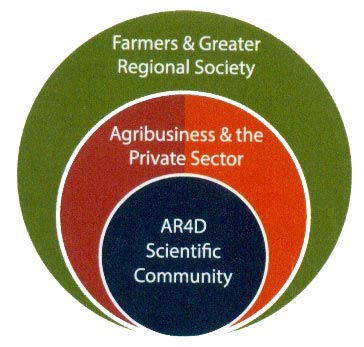 Initiatives by national organizations, international non-governmental organizations (NGOs), aid agencies and private sector companies have collectively made an impact on the region's food and nutrition security problems, but their efforts are outpaced by the urgency and magnitude of the challenges. Much more is needed to speed up South Asia's response in time to avert a new crisis, and BISA proposes to be an effective catalyst to enhance agricultural research for development (AR4D) in South Asia.
AR4D, a key objective of BISA, tackles fundamental questions about how food production is best engineered across various growing conditions and focuses on finding innovative ways to yield more – often with less. When the AR4D process works well, it creates IP and critical technological innovations. The tangible result is more high quality food for those who need it the most. When the AR4D process is constrained, efforts are duplicated, resources underutilized and final outcomes – most importantly poverty and hunger reduction – are not achieved.
Any interdependent value chain faces coordination challenges. In South Asia, food security cannot be solved by any single entity, the task is simply too vast. Currently, coordination among institutions focused on food security most often happens through informal channels, and temporary special projects are not always aligned to nurture information sharing and diffusion of best practices and technologies. BISA will improve this process.
BISA provides an apolitical platform for developing and coordinating access to innovative solutions for stakeholders along the South Asian wheat and maize value chains. BISA will integrate knowledge and know-how from multiple institutions, disciplines, economic sectors and nations, blending the best of international scientific discoveries with local efforts. BISA will provide trusted and effective mechanisms for developing and sharing cutting-edge agricultural technology and information with those who need it the most.
BISA will also strengthen the links between national and international efforts, build additional capacity in the region's scientific community and introduce the best seed, agricultural technologies and information to improve the productivity and profitability of wheat and maize-based farming and food systems. BISA's focus on systems means that it will be a source of holistic advice to farmers and agricultural extension programs not only for growing wheat and maize, but also other crops that are commonly grown with them in rotation while taking into account the broader socioeconomic context.
BISA's mission is to create synergies between existing efforts and to identify areas in the value chain where further activity is needed. BISA is backed by CIMMYT's global credibility, including decades of experience and international reach, the support of ICAR, one of the leading national agricultural research systems, as well as a growing list of national stakeholders and public and private sector entities. Thus BISA is uniquely positioned to improve food, nutrition and livelihood security in South Asia.